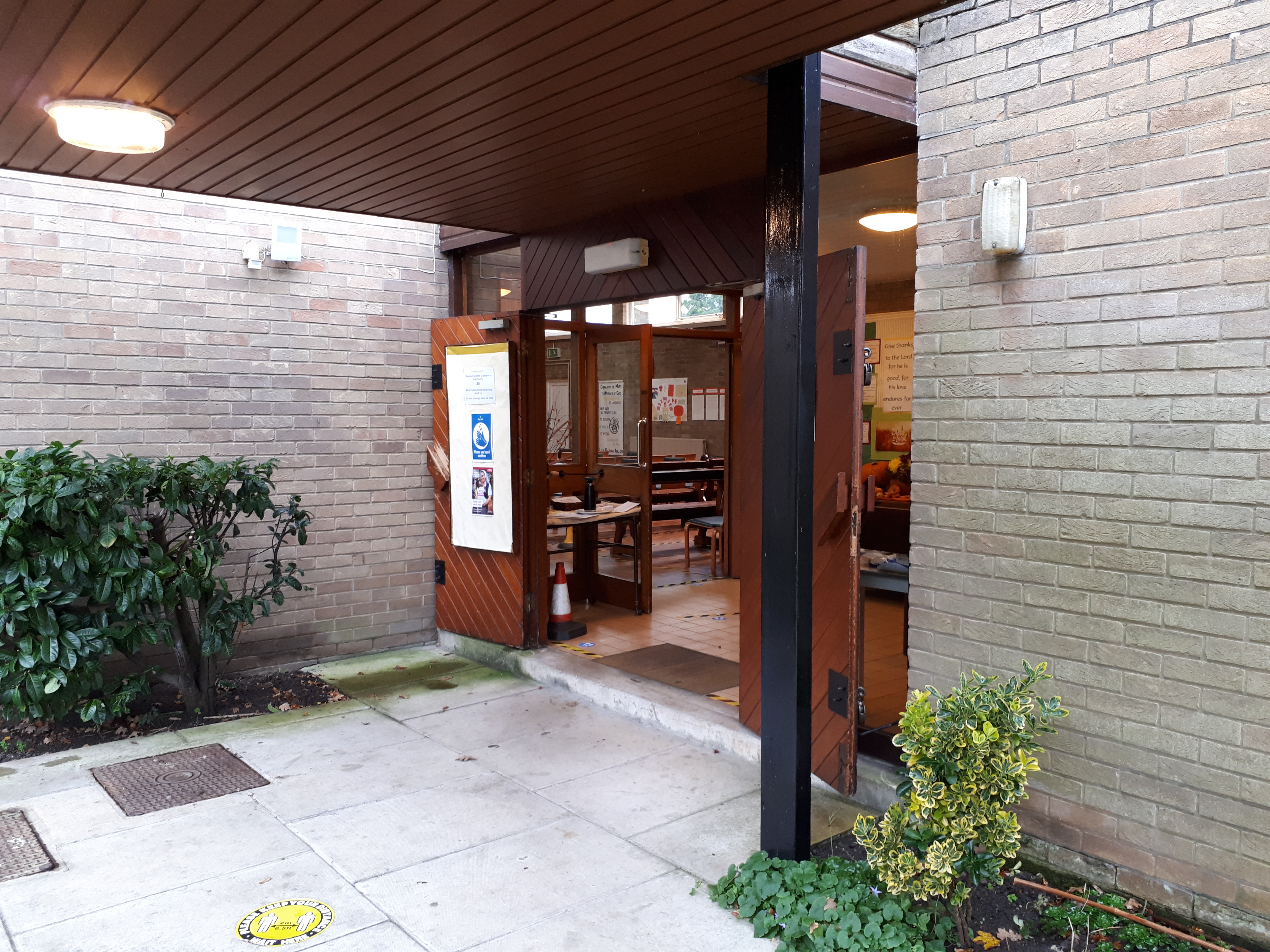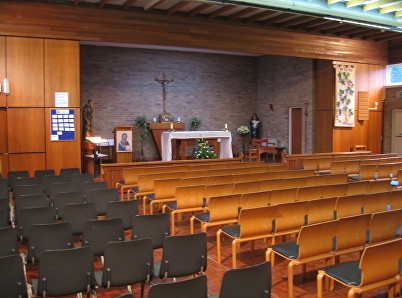 From about 1944, Mass was originally said by a priest from Hazel Grove at the Ladybrook Hotel, Bramhall Green, and this continued for at least the next 8 years.
From 1952, there are no references to Mass being said in Bramhall and there is no reference to the Ladybrook Hotel in the Diocesan year book. Bramhall and Cheadle Hulme are referred to as a single parish.
From 1965, Mass was said in the Scout Hut on Linney Road until 1968 when the present church building was erected on the Handley Road site in Bramhall at a cost of £18,000 and able to seat 280 people.
Fr. Edward Carroll, parish priest at Our Lady and the Apostles in Shaw Heath, was responsible for the building and on the 8th of December, 1968, the Handley Road church became a Chapel-of-Ease served from Our Lady's.  Fr. Carroll gave it to the local people as a gift from Our Lady's. After a number of years, Fr. Ernest Daly, a retired RAF Chaplain and priest of the diocese, moved into the area to be with his sisters, and he supplied the Masses at St Vincent's.
In 1978, Bishop Eric Grasar established the Parish of St. Vincent de Paul with Fr. Denis Maher as its first parish priest. His Induction Mass took place on the 19th of September, 1978,      co-celebrated with Canon Harrington and Canon Coonan. Arrangements were also made for Mass to be said each Sunday at the United Reform Church in Bramhall, and the following year St. Vincent de Paul's became a full member of the Local Council of Churches.
In August, 1983, Fr. Peter Robertson succeeded Fr. Maher as parish priest until 1990. During this time, links were forged with Fr. Roger Mount in Papua New Guinea.
Fr. Francis McManus took over from Fr. Robertson and was parish priest until he retired in 2004. The Parish Pastoral Team was formed during his tenure. When Fr. McManus retired, St. Vincent de Paul's was left without a resident parish priest, and Fr. Pat Munroe took on responsibility for St. Vincent de Paul's as well as his existing parish of St Peter's in Hazel Grove. He was succeed by Fr. Peter Sharrocks in 2006.
In 2009, Fr. Geoff O'Grady, of St. Ambrose's in Adswood, took over responsibility for St. Vincent de Paul until his retirement in 2020, when he was succeeded by Fr. Martin Onuoha